Things to know about planning a successful corporate ski event
If you are thinking of planning a corporate ski event but don't know where to start, you have come to the right place. Mountain Leap Events has been delivering corporate ski trips for nearly 20 years.
Often the event planners who contact us have not been to a ski resort before and have been handed the baton to arrange a ski event either for executives in house or for client entertaining.
It can be a daunting project in terms of trip planning when you don't know the destinations, activities or even what to do on the side of a mountain! Even for experienced meetings and events planners a ski event presents unique planning and logistics considerations that aren't apparent in advance.
Firstly, there are the basics that apply to virtually all winter-sports based events; in addition, there are numerous questions that arise firstly during the search for a suitable combination of destination and accommodation but also once you have booked the trip, the detail of the itinerary, identifying suitable suppliers and local services as well as the day-to-day operations for delegates that deserve an event that runs smoothly.
Although time consuming, planning a ski event does not have to be stressful. Many of our clients experience moments during every phase where the amount of detail or the difficulty in obtaining answers causes anxiety and frustration. You won't be alone in this. Mountain Leap organises dozens of events every year. If we don't have an answer for you at the ready, we will do shortly.
Clients and guests don't need to know what goes into the planning, how long it takes or how much you care that everything goes smoothly. So, relax. We can handle all the details for you, we will ask you when we need instructions and make sure that the budget is well spent and that your colleagues, management and guests find everything to their liking before during and after the event.
From the moment of your first enquiry to Mountain Leap we pride ourselves and enjoy guiding you through the process and making sure it's a smooth experience start to finish.
With the internet comes the temptation to think that booking flights, transfers and accommodation oneself is all that is needed to deliver a good event. The truth is, it can be depending on the expectations of all members of the party. You will save money if you do it all yourself, but you will use a lot of time too
The important consideration is that alpine destinations may have different unconnected ski areas or other particular layouts and local challenges have to be well handled and efficiently so in order for your clients to have the best possible time and to make the most of the time they have.
Organising your event remotely may leave you feeling unprepared which is not the end of the world but with client entertaining trips, smooth delivery makes the difference between an ok ski trip and event that enhances the host's reputation with the client. Balance this with budget is something you should think about at the earliest stage.
To give you a sense of how we approach this following is a breakdown of what we do in addition to securing the right accommodation and leaving you to it. Our service does come at a price, but your clients deliver revenue no doubt more than the cost of any ski event. Having your executives and your guests recognize how valued they are by your firm pays off by the attention to detail we deliver thus paying dividends in client relationship management!
Mountain Leap Event Management – Pre-event and onsite
Pre-event and on-site event management with a dedicated event manager from start to finish
Pre-event
– Research, cost and proposal of all venues, activities, logistics and budgeting
– Proposal of itinerary, review, amend, cost and plan
– Book, confirm, venue check all inclusions, vet suppliers and sub-contractors
– Prepay as necessary for all bookings
– Liaise as required with the Deloitte host for all detailed aspects of the event
– Create event management plan to account for transfer arrivals/departures, special needs, dietary requirements and any other preferences
– Source and supply event materials, conference materials, projection equipment etc. as required
– Provide detailed itineraries for rooms, laminated pocket itineraries for delegates
– Source and supply welcome gifts
– Unlimited telephone, email time as required for event planning with you!
Onsite management
– Checking the chalet set-up in advance of arrivals including allocating the right rooms to the right clients, pre-arrival briefing of the chef, chalet hosting and driving teams
– Any welcome gifts and itineraries laid out in rooms
– Collecting ski passes and distributing them on arrival
– Meeting guests on arrival and showing each guest to their allocated room as appropriate
– Helping with ski equipment (delivered to the chalet), any changes required and return of equipment
– Sourcing, ordering and checking all rental clothing, avalanche gear and snow shoes if needed
– On-site each morning at breakfast for any queries, to oversee a smooth transition to skiing (absolutely critical to a successful event!), meet and manage any ski instructors / guides meeting the group and recommend best ski areas for the day depending on ability, preferences for the day and weather conditions. Organise late arrivals/early departures to join or leave ski groups etc.
– Confirmation of restaurant reservations for lunch or dinner on all occasions. Checking all reservations prior to each meal, organising the right tables and ensuring the locals don't give away pre-booked tables, paying restaurant bills if required. Getting access to the right après ski and night club venues with attendance to ensure the right level of attention
– Point of contact and concierge assistance by telephone/what's app throughout (07:00hrs – 00:00hrs) for each guest
– On-site for all departures to oversee smooth and punctual transitions and bid farewell to the guests
– Compile the travel manifest for all arrivals / departures and manage all changes throughout
– Suggest room allocations based on suitability for individuals / seniority etc
– Provide recommendations for lunch on the mountain each day, book as required, secure best tables and manage dietary requirements and changes throughout
– Book professional English-speaking ski/snowboard instructors and mountain guides and manage requirements, logistics, meet points and changes throughout
– Book and manage ski / snowboard equipment hire for delivery to the chalet
– Book and manage any non-ski activities such as tandem paragliding, including supplier liaison, supplier suitability (reputable, English speaking etc) and management of any changes
– Book professional and reputed masseurs for any massage requirements at the chalet or other treatments
– Recommend and book a local event photographer if required
– Compilation and production of individual information packs and event itineraries for each guest
– Recommend and purchase local welcome gifts as appropriate
After the event
– Detailed reconciliation of any expenses and payment of any bills
– Review of the event including what went well, what didn't, feedback and tying up loose ends
Getting Started!
To get started we need to know a few things about the trip that will help us make the right suggestions to you. If this is the first time for you or your organisation, then the most important (and time saving) piece of information you will need to know, is how much budget has been allocated to the event. Without a budget you won't know whether to start looking at 3, 4 or 5 star hotels and in which resorts.
Premier resorts such as Courchevel in France or Verbier in Switzerland may be twice as expensive as lower, less well-known destinations. If your executives are simply looking for some guidelines though before engaging us to prepare detailed proposals, we suggest the following: –
3-day ski event
Group airport to resort round-trip transfers & in-resort transfers, double/twin room accommodation on a half board basis, 3 days ski pass and equipment hire, supportive event management throughout from Mountain Leap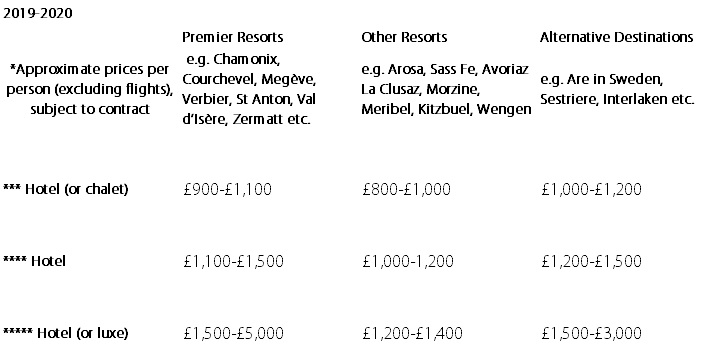 *Approximate prices per person (excluding flights), subject to contract
*subject to contract and availability
To give you a sense for budgeting, accommodation is often around half the cost of the event.
Other considerations:
– Dates and duration (school holidays/half term?)
– Flights (and flight times) & Airport transfers
– Getting around the resort
– What you need to know about hotels or chalets
– Ski Passes and rescue cover
– Equipment Hire (ski's/boots, snowboards/boots and helmets)
– Ski Instructors / Mountain Guides
– Food and beverage on and off the mountain
– Objectives of the event and how to measure them
– What to do with non-skiers
– How to mix abilities
– How to host and be hosted
– Travel comfort
– Budgets, contingencies & extras
– Health and Safety
– Professional indemnity, third party liability
– How to handle gratuities
– Tourist taxes
– Borders and visas
– Conference facilities, audio-visual equipment
– Event branding and production
– Wifi and broadband internet access
– Communications
Attire and Weather
The weather and temperature can fluctuate dramatically in short periods of time. For alpine activities such as skiing, you will need to dress in warm, layered clothing, with a breathable waterproof shell.
Please see the equipment list below for some specific items of clothing/protection you should have with you. Don't worry if you have not packed any items, we will help you select suitable clothing at your expense while being fitted for ski's and boots. During the day you can expect temperatures to vary from a few degrees above freezing during daytime highs (maximum) to many degrees below zero Celsius at times during the night, at extreme altitude or during poor weather.
Equipment and Precautions
The alpine environment can be harsh, delivering exposure to strong sunlight, at times very cold conditions, altitude and strong winds, amongst other environmental factors. You should have with you:
– Lip salve
– Sun Block (high factor)
– Moisturizing Cream
– Thermal underwear (not cotton)
– Ski Goggles or sunglasses (with side flaps to exclude indirect exposure*)
– Good quality gloves and a warm hat
– Spare glasses/lenses if appropriate
– Enough medication if needed for at least the duration of your travels
Please consult a medical practitioner before you travel if you have any medical condition which might compromise your ability to travel and enjoy your trip safely. Should you be taking any medication, please mention this on your enrolment form or to a member of ML staff on arrival. Remember that altitude and exercise will dehydrate your body much faster than you are used to. Drink several liters of water each day to mitigate such effects and the effects of consuming alcohol should this be your preference.
* There are many dangers in alpine environments. Amongst them you should know that the sun could cause serious injury. Exposure to unfiltered sunlight, even for short periods of time can cause a condition known as 'snow blindness'. This can be permanently damaging and/or extremely painful as well as debilitating. Please ensure that you have good quality goggles and or sunglasses with UVA and UVB protection. Eye protection should always be worn when skiing or when you are at altitude both when you are exposed to direct sunlight and under cover of clouds. Exposed skin may also receive sufficient ultra-violet radiation to cause sun burn. Please use high factor protection sun cream to prevent such exposure.
Alpine activities and travel carry risk. Mountain Leap does not accept responsibility for any accident, illness or injury to you or to third parties as a consequence of your attendance of the trip as summarized above. Please ensure that you have adequate medical, travel and general insurance to protect against risks both foreseen and unforeseen. Any activities that we organize for you and in which you participate including but not limited to skiing, snowboarding, walking on snow, tobogganing and so on are undertaken at your own risk.
Although all reasonable care will be taken to ensure that you have a safe journey and an enjoyable corporate event, any attendees at this event do so at their own risk. Responsibility for your safety also resides with you and we will not accept any liability for injury or loss to you or third parties in the event of an accident if you have not maintained a sensible attitude to the activity in question or you are under the influence of drugs or alcohol. If you have any doubts please ask questions!
We would love to help you plan your event or simply act as your venue finder if that's all you need. All that remains to be said is that we love the mountains and were taught to share…
Wishing you the greatest success planning you and delivering your trip!
THE MOUNTAIN LEAP EVENTS TEAM